Welcome to ALBA P.S. News.

Over the course of the season we hope to keep you updated on the various activities of the society.
Alba Photographic Society success
11/04/2021
Alba Photographic Society are delighted to announce we have won a place in the Glasgow District Photographic Union (GDPU) League Finals taking place on Monday 26th April 2021. Due to Covid restrictions, the final will take place over Zoom this year, with all members invited to attend. This will be an exciting event with stiff competition from the other clubs taking part.
The club normally meets each Wednesday evening in Netherton Community Hall, Wishaw, between September and April. Even though the hall has been closed all year, membership of the club has remained high, with members continuing to meet each Wednesday night over Zoom.
The club has enjoyed many prestigious speakers over the last year as well as practical tuition nights, audio visuals, and quizzes. An upside of Zoom is that it has provided the opportunity to attract first class speakers who would normally live too far away to travel to the club.
We are a friendly club who cater for all levels of photographer, from beginners to advanced. If you would like to join Alba in the new Season please email us for details on:
albaphoto0@gmail.com
Local Camera Club Holds Free Exhibition
10/11/2020
We all need a bit of cheer in these difficult times, and with money being tight for many families right now what better way of cheering ourselves up than an outing that costs nothing? Alba Photographic Society are providing the perfect opportunity for Lanarkshire residents to do just that – by hosting a
FREE
exhibition of their work in the entrance area of Chatelherault Country Park Visitor Centre. The event, which has already attracted much attention, will be running until the end of November, so you won't want to miss out on this opportunity.
Like everybody else, Alba club members have had to adapt the way they meet and interact with each other during these exceptional times, but members have turned adversity on its head by seizing the opportunity to try out a variety of new and interesting things.
Meetings which would normally take place each Wednesday night at Netherton Community Centre are currently being held digitally, using Zoom software – with even the most technophobe of members now using the technology like a pro! Zoom has allowed the club to provide a number of new and interesting guest speakers, never seen before, throughout the season, (which runs from September to April). It has also provided the opportunity for experienced members of the club to provide personalised tuition to members who want to take their photography skills to the next level.
Other changes for the current year include replacing print competitions with digital, so there is no handling of prints; quizzes; and the introduction of audio visual nights where members can enjoy short videos combining music with their photography.
Far from giving up in a difficult situation, Alba now finds itself going from strength to strength. Several members of the club have recently been successful in the annual digital competition run by Glasgow District Photographic Union (GDPU) where the best images from all clubs in Scotland's central belt are showcased. This is a great result for a small local club such as Alba as standards are always very high.
Alba President, Roy Preston said:
"I would like to thank club members for engaging in the Zoom format and the committee for setting out a brilliant syllabus for 2000/2001 with speakers never before heard or seen at Alba, and this has more than doubled the talks this year.
The members continue to support the club, and the Zoom format has been appreciated with the club weekly numbers going up by 40% over the first few weeks, which gives the club a great base for the future."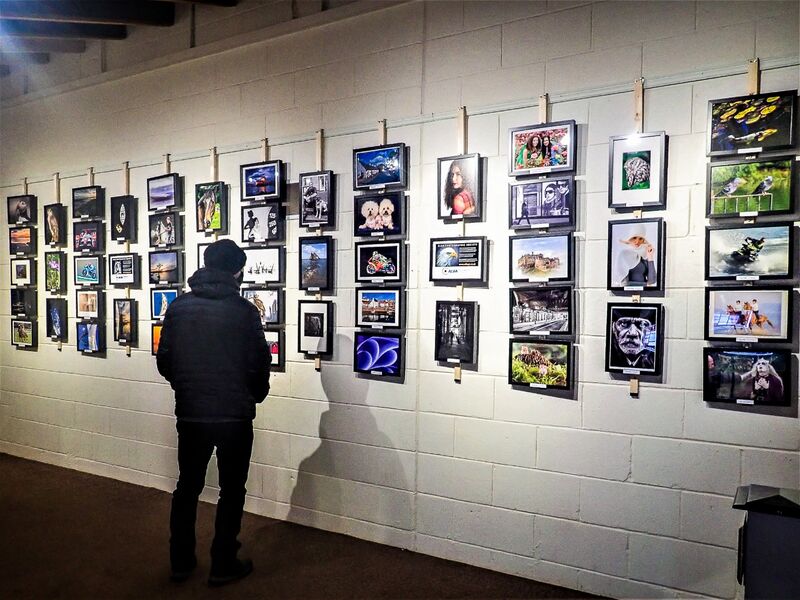 Neil MacGregor Presentation
30/09/2020
On Wednesday 30th September, Alba members enjoyed a very entertaining talk by Neil MacGregor, a respected Landscape and Nature photographer. Neil's talk, entitled "Bits and Pieces" covered the various techniques he uses to achieve stunning shots of landscape and wildlife in and around his local area. Neil finished off his presentation with a lovely audio visual presentation showcasing some of his work.
Members were able to interact and ask questions during and after the presentation just as they would on a normal club night
Due to the current restrictions all Alba club meetings have been taking place over ZOOM, with socially distanced outings arranged whenever possible.
Alba resuming Wednesday 2nd September
28/08/2020
Hi Albans,
Just some update on the new season at our Camera Club. As you can imagine the committee have been working their socks off for months trying to put the 2020/2021 programme in place, only to be told last week the hall is out off commission until at least after Christmas! We are now working on a programme within the above restrictions. We are going to be putting a programme together based on Zoom speakers, Zoom internal tutorials and outdoor events. Alongside these will be our digital competitions where remote judging will be the format. These events are all definite and we will send more details later.
The club will resume on Wednesday 2nd September at Whitelee Windfarm, where we hope to have a member of our club, Andrew Gasiorowski, who has a lot of knowledge on sky photography, to pass on some of that knowledge. As by chance, that night will be a full moon. If conditions are not suitable for sky photography we will have an alternative venue for doing light trail photography. More details on this in the next few days.
The committee decided that up to Christmas all the events will be free, except for your car travel, ie. if you want to car share. As you will be aware the fees have been halved for this year, which we think is extremely generous to all members, but could you be kind enough to bring your joining fee along to one of the outdoor events and give that money to one of the committee. Thank you.
My message to all of our members is that the the committee are trying their best to make the club as interesting as possible during these difficult circumstances. In recent years the club has grown in strength and numbers and we hope this year will be no exception. If any member thinks they have any ideas, please make them known, and I can assure you, they will be put forward for consideration.
My final thought is I hope the members will support these events as we have mulled over the syllabus for some months. We hope the programme will have something for everyone. When members come to events outside they must bring their appropriate mask and hand gel and anything else they think is required. We are having these outdoor events to make the evening as safe as possible. (Note: when groups are outside they must not form more than five households per group as per current government regulations.)
ROY R PRESTON (Alba President)
Upcoming Zoom tutorial by Craig Ferguson
28/08/2020
Alba member Craig Ferguson has kindly agreed to host a Zoom meeting on Wednesday 9th September showing how quickly you can enhance an image straight from the camera by carrying out a few basic steps in post processing.
Craig is asking Alba members to submit any RAW images they have, which they think could be improved upon by some post processing. If you think you might have a potential image that could be improved upon then please email Alan Pollock your image in the first instance. Alan will provide his email address by contacting him on our Facebook club page.
Thanks.
Whitelee Wind Farm trip
27/08/2020
Here are the details of the trip to Whitelee Wind Farm on Wednesday 2nd September. We are meeting at 8pm in the car park. Address is
Moor Road, Eaglesham. G760QQ
. Navigate to Eaglesham and go straight through the village and out the other side. Follow the main road until you reach the wind farm entrance on the left hand side.
Equipment list : Appropriate clothing and footwear, working camera, lens (wide angle preferred 35mm or wider, f2.8 or wider. A long zoom can also be used for the moon), tripod (essential), a torch to see where you are going in the dark and for light painting. A small or head torch (red light preferred) could help you see camera settings without causing too much light pollution. I'll repost this next week just to remind members. If anyone is unsure about any of this just face book me.
Thanks.
ALAN POLLOCK LRPS
Chatelherault Country Park exhibition
27/08/2020
Alba members are asked to prepare one or possibly two prints of A4 size for the above exhibition. I hope every member will opt in to this great opportunity to show their photographic skill off to the general public, family and friends. We are working on the assumption the event will go ahead. Failing that you will have a nice framed print for your own house or for a gift. The club has paid for the frame for you and over the next two weeks I will coordinate the somewhat tricky task of taking in the prints from members and preparing the frames for mounting on the exhibition wall. Ron Ballantyne has kindly agreed to help with this task. (Eyelets have to be inserted and cord attached) Derek Monaghan has kindly agreed to prepare and print labels with the author's name and image name, which will be placed in between the print and the perspex cover. I will bring the frames to Whitelee next Wednesday (2nd September) for your inspection. The inside frame size is to fit an A4 print, however there is also a mount which you could use if you wish or you could cut your own sized mount. If you would like your frame sooner than next week please get in touch with me to arrange that. If you already have a suitable print you could just get that to me as soon as possible, or bring it along to Whitelee and I'll organise the rest. Because of the work involved in this task there will need to be a cut off for the submission of the prints which will be Wednesday 16th September. This will allow members three weeks to organise and submit a print, which I think is fair.
If any Albans do not want to participate in the exhibition then I would appreciate a notification
asap
as this will allow others to submit a second print. If any member needs help with either printing or mount cutting or any other part of the process please get in touch with any committee member and we will help. So what do you have to do now?
1. Choose an image and print A4 size.
2. Get a frame from Alan or get your print to Alan with your name and the image name on a piece of paper. (Do not write on the back of your print as it might bleed through and show from the front.)
3. Adhere to the deadline of Wednesday 16th September. Apologies for the long-windedness of this post. It would have been so much easier if we were at the Community centre.
Thank you all in anticipation.
ALAN POLLOCK LRPS
Strathclyde Park meeting
28/08/2020
A small number of Alba members got together on Thursday 27th August for a photo shoot at Strathclyde Country Park.